Home /
Fate Grand Order Apk Download For Android
2.49.1
Download the latest Fate Grand Order APK for an immersive gaming experience. Immerse yourself in an epic adventure with iconic characters, strategic battles, and captivating storyline. Get the official APK now for Android devices and embark on a quest to save humanity in this critically acclaimed mobile role-playing game.
Developer
Aniplex Inc.
Updated
19 Aug 2023
Size
69 MB
Version
2.49.1
Requirements
4.4 and up
Downloads
17k
Get it on
Description
About Fate Grand Order APK
A fairly competent franchise that Fate/Stay Night started has inspired Fate Grand Order Apk, a JRPG. Flashback to 2015, where the plot takes you to the top of the Chaldean Security Organization, where it is revealed that all human existence is at risk if no action is taken in the coming year. Scientists have managed to trace the cause of this epic disaster, triggered by an anomaly that appeared over the city of Fuyuki in late 2004. Your mission is to travel through time with a group of special agents to help you defy fate. By stopping the very moment of creation, the world can be saved.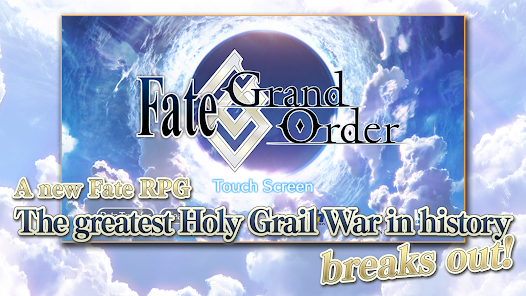 In the beginning, you create your own special agent by choosing their gender and name. During the many conversations that take place throughout the game, you'll also give your protagonist some sense of identity through the option of switching between different sets of dialogues. Of course, you can always opt out and ignore some of these petty chats, but it's definitely not a recommended strategy or in your best interests. Fate/Grand Order's storylines are one of its real strengths, and it's well worth spending some time reading them.
Long conversations aren't the only feature of Fate/Grand Order. During this adventure, you also have to defeat all the enemies you face, which mainly means that you will be involved in extreme frontal turn-based battles. With over a dozen different "servants" at your disposal to send into battle, you're tasked with harnessing each of their special attributes and skills as well as balancing their strengths and weaknesses without giving up on each individual personality. Many of them have been present since the beginning of this saga.
Fate/Grand Order is an epic JRPG with a dramatic storyline intertwined with well-crafted (some would say spectacular) tactical battles. All things considered, this is an excellent game that delivers consistent quality level by level. Obviously, it includes exceptional graphics and a top-notch soundtrack to match its excellent playability.
Features of Fate Grand Order Apk
Iconic Characters: Collect and summon legendary heroes from across time and history.
Epic Storyline: Immerse yourself in a captivating narrative that spans different eras and dimensions.
Strategic Battles: Engage in tactical turn-based battles with a variety of skills and strategies.
Summoning System: Use the summoning system to acquire new servants and enhance your team.
Events and Challenges: Participate in regular events and challenges to earn rewards and unlock new content.
Customization: Strategically build and customize your team to overcome various challenges.
Stunning Visuals: Enjoy high-quality visuals, character animations, and special effects.
Collaborations: Experience crossover events with other popular franchises, enhancing the game's excitement.
Character Bonding: Strengthen bonds with your servants to unlock unique storylines and abilities.
Constant Updates: Benefit from regular updates and new content, keeping the gameplay fresh and engaging.
Pros And Cons of Fate Grand Order Mod Apk
Pros:
Engaging Storyline: The game offers a captivating and complex narrative that draws players into its rich lore.
Strategic Gameplay: The turn-based combat system encourages tactical thinking and planning.
Iconic Characters: A vast roster of historical and mythical figures adds depth and familiarity to the game.
High-Quality Visuals: The game features stunning character designs, animations, and special effects.
Regular Events: Frequent events keep the game exciting, offering unique challenges and rewards.
Community and Collaboration: The game's popularity fosters an active online community and crossover events.
Free-to-Play: The game is accessible without requiring an upfront payment.
Character Development: Players can strengthen bonds with characters, unlocking additional story content.
Constant Updates: Regular updates bring new content, features, and improvements.
Offline Play: Players can enjoy certain aspects of the game even without an internet connection.
Cons:
Gacha System: The reliance on random summoning mechanics can lead to frustration and disappointment.
Resource Management: Gathering in-game resources can be time-consuming and may lead to grinding.
Power Creep: Newer characters and mechanics might outshine older ones, impacting balance.
Stamina System: The energy-based system can limit the amount of gameplay in a single session.
Slow Pacing: Some players might find the game's pacing to be slow, particularly in the early stages.
Learning Curve: The complexity of mechanics and systems might be overwhelming for newcomers.
In-App Purchases: While the game is free-to-play, in-app purchases can be tempting for progression.
Connection Issues: A stable internet connection is required, which can be a drawback for some players.
Limited Interaction: The game's social and multiplayer features might be limited compared to other games.
Large File Size: The APK's file size can be substantial, requiring significant device storage.
You may choose some similar interesting applications like Kick the Buddy Apk
Frequently Asked Questions
Q1: What is Fate Grand Order apk?
A1: Fate Grand Order apk refers to the Android application package file of the popular mobile game Fate Grand Order, allowing users to download and install the game on their Android devices manually.
Q2: Where can I download the Fate Grand Order apk?
A2: The Fate Grand Order apk can be downloaded from various sources on the internet. However, it is always recommended to download it from trusted sources, such as the official game website or reputable app stores like Google Play Store or APKPure.
Q3: Is it safe to download and install the Fate Grand Order apk?
A3: To ensure safety, it is recommended to download the Fate Grand Order apk from official or trusted sources. However, it is important to be cautious and exercise due diligence to avoid downloading any fraudulent or modified versions of the apk, as they may compromise the security of your device.
Q4: Can I play Fate Grand Order apk without an internet connection?
A4: No, Fate Grand Order is an online game, so a stable internet connection is required to play. While the game can be downloaded and installed offline using the apk, you will need to connect to the internet to play the game and access its features.
Q5: Will using the Fate Grand Order apk cause any issues or bans?
A5: Using the official Fate Grand Order apk downloaded from trustworthy sources should not cause any issues or bans. However, it is important to note that using modified versions or cheats can be against the game's terms of service and may result in penalties, including temporary or permanent bans from the game.
Q6: Can I update the Fate Grand Order apk without losing my game progress?
A6: Yes, you can update the Fate Grand Order apk without losing your game progress. Simply download the latest version of the apk and install it over the existing installation. However, it is always recommended to create a backup of your game data before updating to avoid any potential data loss.
Q7: Can I install the Fate Grand Order apk on iOS devices?
A7: No, the Fate Grand Order apk is specifically designed for Android devices. iOS users can download and install the game from the Apple App Store instead.
Q8: How often is the Fate Grand Order apk updated?
A8: The Fate Grand Order apk is typically updated periodically by the game developers to introduce new content, fix bugs, and improve gameplay. It is recommended to regularly check for updates to ensure you are playing the latest version of the game.
Q9: Can I transfer my game progress from the apk version to the official app version?
A9: Yes, it is possible to transfer your game progress from the apk version to the official app version. The game provides options to link your account to various platforms or bind it to a social media account, allowing you to easily transfer your progress to a different device or the official app version.
Final Words
Fate Grand Order apk is a highly immersive and engaging game that combines elements of strategy, storytelling, and character development. It offers a vast and intricate world filled with legendary heroes and epic battles, allowing players to embark on a thrilling journey across time and space. With its stunning visuals, captivating storyline, and strategic gameplay, Fate Grand Order apk has gained a massive following and continues to be a beloved game among fans of the Fate series. Whether you are a fan of the franchise or a newcomer to the world of Fate, this game provides an unforgettable experience that will keep you hooked for hours on end
This application was developed by Aniplex Inc.. The rating on our website for this app is 3.5 out of 5 stars. Also, this application is rated 4.4 out of 5 on multiple platforms. You can provide your comments on this website. It will help others to know this Fate Grand Order apk.
Welcome to visit ApkRoute.com. We believe that you reached your destination to find out Fate Grand Order apk. We are recommending you try other apps that are the same as popular.
To get the latest MOD & Game apps please subscribe to our Telegram group.
Thank you for visiting ApkRoute.com!
Images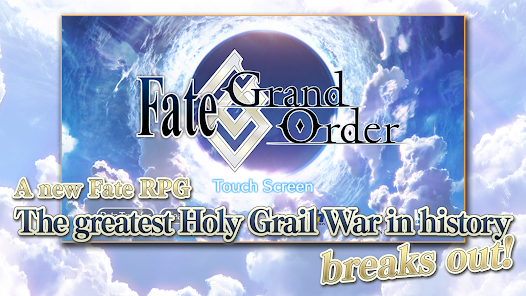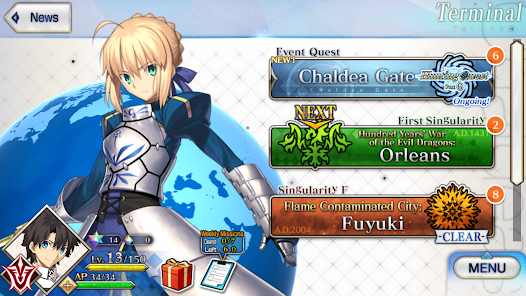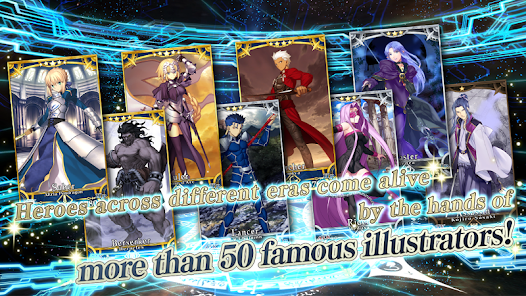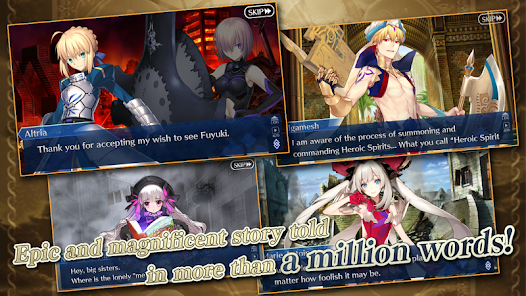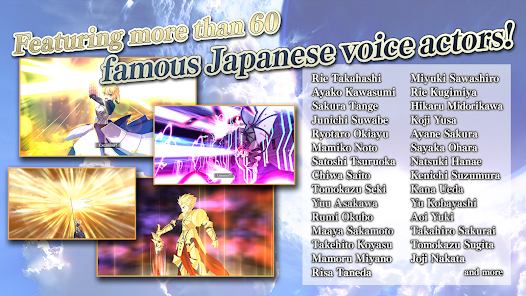 Developer's apps