Extreme Car Driving Simulator Apk is a driving game in which we will drive many high powered cars. Driving freely through the streets of a huge city, we'll test our ability to take advantage of the mechanical properties of each vehicle. In addition, the title offers the possibility of completing various missions to obtain rewards that will allow us to unlock new cars.
The most interesting aspect of Extreme Car Driving Simulator is that from the garage we can completely customize each of our cars. Not only can we modify its color and some aesthetic aspects, but we can also modify specific mechanical settings to adjust the driving experience according to the needs of our drivers.
The driving experience of each car is very realistic thanks to the game's stunning 3D graphics. The control system is fully adapted to touch devices, which will allow us to easily get the most out of each car. By pressing the accelerator and brake pedals we will control the speed while turning the steering wheel to modify the trajectory according to our needs.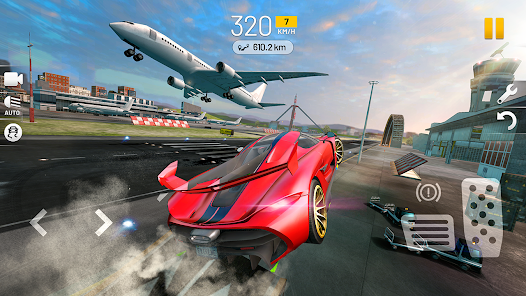 To feel the speed, Extreme Car Driving Simulator continuously displays the kilometers per hour at which we are driving. This information on the screen will be very helpful when we enter missions for which we will have to pass through some radars or checkpoints.
Extreme Car Driving Simulator includes vehicles from famous brands such as Nissan, Audi or Bugatti that we can test both on city streets and on closed circuits. By showcasing our racing skills, we will try to complete the missions at full speed to break all the records in every match. But if we are looking for a quieter experience, we can also enjoy a ride behind the wheel of one of these luxurious racing cars in the free driving mode.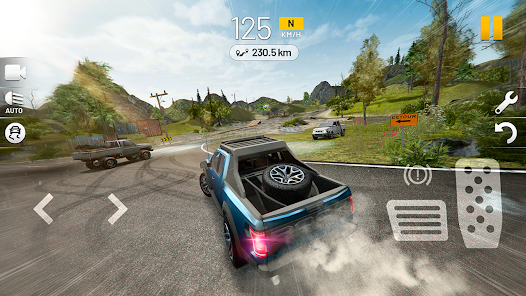 Extreme Car Driving Simulator is the best open world car simulator from 2014 thanks to its advanced real physics engine
Have you ever wanted to try a sports car simulator? Now you can drive, drift and feel the racing sports car!
Be a furious racer on the whole city for you. There's no need to brake through traffic or race against other rival vehicles, so you can perform illegal stunts and race at full speed without the police chasing you!
Drifting fast and doing burnouts has never been this much fun! Burn the asphalt in this open world city!
Features of Extreme Car Driving Simulator Apk
mini-game checkpoint mode
drive with traffic
Full real HUD including rev, gear and speed
ABS, TC and ESP simulation. You can even turn them off!
Explore a detailed open world environment
Realistic car damage. crash your car!
exact physics
Control your car with steering wheel, accelerometer or arrows
many different cameras
gamepad support
Pros And Cons of Extreme Car Driving Mod Simulator Apk
Pros:
Realistic driving physics provide an immersive experience.
Wide variety of high-performance cars to choose from.
Exciting and challenging tracks to test your driving skills.
Ability to perform thrilling stunts and jumps.
Stunning graphics and visuals enhance the overall gameplay.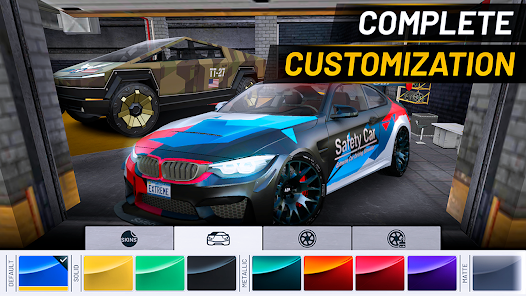 Cons:
Limited customization options for cars and tracks.
Some users may find the controls challenging to master.
In-app purchases may be required to unlock certain cars or features.
Occasional bugs or glitches that may affect gameplay.
Requires a significant amount of device storage space to install.
You may choose some similar interesting applications like Special Forces Group 2 Apk