Home /
Cooking Fever Apk (latest version) for Android
19.0.0
Get the latest Cooking Fever APK for a sizzling gaming experience! Enjoy endless culinary challenges, cook delicious dishes, and manage your virtual restaurant. Download now for Android and ignite your passion for cooking!
Developer
Nordcurrent Games
Updated
2 Aug 2023
Size
250.7 MB
Version
19.0.0
Requirements
Android 6.0 and up
Downloads
100M+
Get it on
Description
About Cooking Fever Apk
Cooking Fever Apk- Cook delicious dishes and desserts in your own restaurant. Discover different cuisines from around the world in this time management game
With a wide range of unique venues and restaurants, from Chinese to Indian, you can practice your cooking skills and learn how to make different kinds of meals.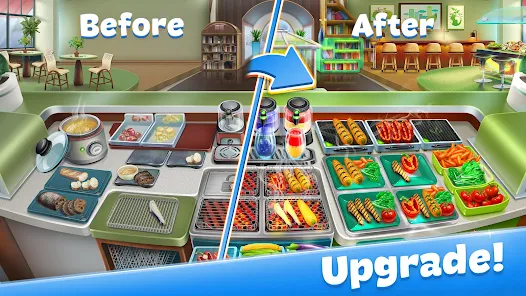 Oh, and did we say that this game is as addictive and fun as Fever? Enjoy cooking and don't forget to share your delicious food with your friends on Facebook!
Features of Cooking Fever Apk
The features of Cooking Fever apk include:
Multiple Locations: Cook in various restaurants, from fast food joints to dining venues, offering unique challenges.
Hundreds of Levels: Conquer hundreds of levels, each with increasing difficulty and different objectives.
Special Events: Participate in time-limited events and win exclusive rewards and prizes.
Virtual Currency: Earn coins and gems by completing levels to purchase upgrades and unlock new content.
Realistic Simulation: Experience a realistic cooking environment with intuitive controls and lifelike cooking actions.
Happy Customers: Satisfy customers with prompt service and delicious food to earn tips and positive reviews.
Challenge Friends: Connect to social media and challenge friends to see who can score the highest.
No Internet Required: Play offline without an Internet connection, ensuring entertainment anytime and anywhere.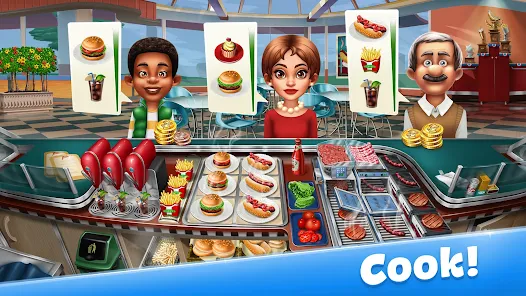 Exciting key features include:
🍔 Thousands of delicious dishes from countries around the world!
🌮 Wide choice of world-famous cuisines!
🤩 Over 1000 levels to complete!
🖼️ Hundreds and hundreds of upgrades for your kitchen appliances and interior!
🏆 Tournaments and Challenges to participate and win!
Pros And Cons of Cooking Fever Apk
Pros:
Engaging Gameplay: Enjoy addictive and challenging cooking simulations, that keep you entertained for hours.
Culinary Adventure: Explore a variety of cuisines and dishes, enhancing your virtual cooking skills.
Restaurant Management: Experience running your own restaurant, managing orders, and serving customers.
Regular Updates: The game is often updated with new content, ensuring ongoing excitement and fresh challenges.
Offline Play: Play anytime, anywhere, even without an internet connection.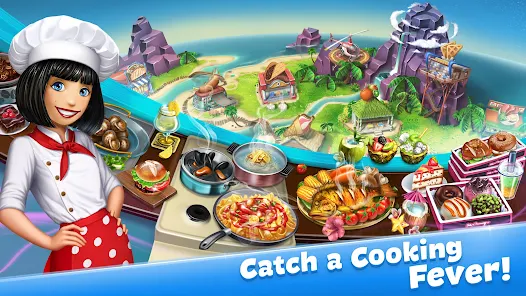 Cons:
In-App Purchases: The game may offer optional in-app purchases for virtual currency or items, which can be costly.
Time-Limited Challenges: Some levels may have time restrictions, making them difficult for some players.
Progression Pacing: Advancing in the game might slow down without spending money, requiring patience.
Ads: There could be occasional advertisements, which might interrupt the gameplay experience.
Device Compatibility: Older devices may experience performance issues or compatibility problems.
You may choose some similar interesting applications like Kantin Sekolah Simulator Apk
What's new
1. New Restaurants: Cooking Fever regularly introduces restaurants with different cuisines and themes. Some popular ones include Sushi Diner, Sunset Waffles, Hell's Kitchen, Corn Dog Van, etc.
2. Special Events: The game often includes limited-time events and challenges where players can earn rewards or unlock new content.
3. New Levels and Recipes: Updates usually bring new levels and recipes for players to explore and master. These can include new dishes, ingredients, and cooking techniques.
4. Kitchen Upgrades: Players can upgrade their kitchen equipment to improve cooking speed and efficiency. Upgrades may include new appliances, decor items, and functional improvements.
5. Bug Fixes and Performance Enhancements: Updates often include bug fixes to address issues reported by players. They may also include performance optimizations to improve gameplay experience and stability.
How to Install Cooking Fever Apk on Android Devices?
Visit our website apkcluster.com
Click on the Download button.
Now go to File Manager / Files on your device & click on the installed app.
You can download the Cooking Fever Apk by clicking the download button. After the download is complete, you will see the APK in the "Download" section of your mobile browser. Before installing the application on your phone, you need to make sure that third-party applications are allowed on your device.
Here are the steps to make this possible: Open Menu > Settings > Security > and check for unknown sources to allow your Android device to install apps from sources other than the Google Play store.
 After completing the above operations, go to download in the device browser and click on the file. An installation dialog box will appear, asking for permission, and you can complete the installation process.
 After the installation process is complete, you can use the application.
Frequently Asked Questions
1. What is Cooking Fever Apk?
Cooking Fever Apk is an Android application that allows users to play the popular cooking game, Cooking Fever, on their mobile devices. It offers all the features and gameplay of the original game but in an APK format.
2. How do I download the Cooking Fever Apk?
To download Cooking Fever Apk, you can visit various APK downloading websites or platforms. Simply search for "Cooking Fever Apk" in the search bar, and choose a reliable source to download the APK file. Once downloaded, you can install it on your Android device.
3. Is Cooking Fever Apk free?
Yes, Cooking Fever Apk is free to download and play. However, it may contain in-app purchases that can enhance your gaming experience or provide additional features. These purchases are optional, and you can enjoy the game without spending any money.
4. Can I play Cooking Fever Apk offline?
Yes, Cooking Fever Apk can be played offline. You do not need an internet connection to enjoy the game. However, some features, such as accessing new levels or participating in time-limited events, may require an internet connection.
5. Can I sync my progress in Cooking Fever Apk with the original game?
Unfortunately, Cooking Fever Apk and the original game do not have a syncing feature. Your progress in the APK version will not be transferred to the original game, and vice versa. They are considered separate entities.
6. Are there any differences between Cooking Fever Apk and the original game?
Cooking Fever Apk offers the same gameplay and features as the original game. However, since it is an APK version, it may not receive regular updates or bug fixes like the official game. Additionally, some APK versions may contain modified features or cheats that are not present in the original game.
7. Is Cooking Fever Apk safe to download?
Downloading APK files from reliable sources is generally safe. However, it is essential to be cautious and ensure you are downloading from a trusted platform to avoid malware or viruses. Always scan the downloaded file with an antivirus program before installing it on your device.
8. Can I get Cooking Fever Apk for iOS devices?
No, Cooking Fever Apk is specifically designed for Android devices. If you want to play Cooking Fever on an iOS device, you can download it directly from the Apple App Store.
9. How can I update Cooking Fever Apk?
Since Cooking Fever Apk is not available on official app stores, you need to manually check for updates on the website or platform where you downloaded the APK file. If a new version is released, you can download and install it over the previous version to update the game.
Final Words!
Cooking Fever Apk is a highly engaging and addictive cooking game that offers an immersive and realistic culinary experience. With its wide range of levels, challenges, and upgrades, players are constantly motivated to improve their cooking skills and expand their virtual restaurant empire. The game's appealing graphics, user-friendly interface, and frequent updates contribute to its popularity among gamers of all ages. Whether you're a casual gamer or a passionate food enthusiast, Cooking Fever Apk is sure to provide hours of entertainment and culinary fun. This application was developed by Nordcurrent Games.
The rating on our website for this app is 3.5 out of 5 stars. Also, this application is rated 4.4 out of 5 on multiple platforms.
You can provide your comments on this website. It will help others to know this Cooking Fever Apk.
Welcome to visit ApkRoute.com. We believe that you reached your destination to find out about Cooking Fever Apk.
We are recommending you try other apps that are the same as popular. To get the latest MOD & Game apps please subscribe to our Telegram group.
Thank you for visiting ApkRoute.com!
Images